Better hearing and a better quality of life can be yours for many years with the help of the right hearing professional. At Bright Audiology, we pride ourselves on developing long-term relationships with our patients. Relationships based on unsurpassed personal service that begins the first time you walk through our doors and continues long after your initial appointment.
Call us today at 919-888-4634.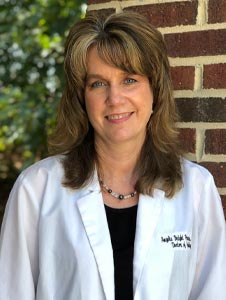 Angela Bright Pearson, Au.D.
Board Certified Doctor of Audiology Speech Language Pathologist
Dr. Angela Bright Pearson had childhood hearing loss and received her first hearing aid at age 16. It made such a difference for her that she wanted to become an audiologist to help others as she was helped. She understands firsthand the anguish hearing loss can cause…and also what a difference her hearing aids continue to make today.
Read Full Bio
Dr. Bright Pearson was one of the first in the country to receive her "Doctor of Audiology" degree in 2000, from the University of Florida. Prior to that, she received her Master's degree in Audiology and Speech Pathology from UNC Greensboro. She has taught at UNC Greensboro and UNC Chapel Hill, served on state audiology boards, and has presented and published on a national level.
She was featured on the cover of Advance for Audiologists in 2009 for her leadership as a female practice Owner/Audiologist. She is certified by the American Board of Audiology, the highest level of certification available for audiologists. She is also certified in Tinnitus Retraining Therapy, a researched treatment for tinnitus. An additional specialty area is Auditory Processing.
She has earned the trust of local physicians and praises from patients. Dr. Bright Pearson prides herself by staying on top of changing trends in both patient care and audiology technology but also keeping family budgets in mind. Dr. Bright Pearson has been operating her business since 1996, returning to Sanford after having worked in a variety of settings as a speech-pathologist and audiologist.
Dr. Bright Pearson is a native of Sanford, and resides there with her husband and daughter. They enjoy camping, traveling (especially to the beach!), and water skiing. She is a member of Asbury United Methodist Church, where she is a pianist.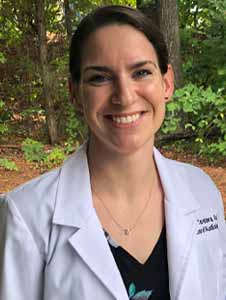 Caelan Cordova, Au.D.
Audiologist
Dr. Caelan Cordova joined the Bright Audiology team in July 2022. She earned her Bachelor's degree in Deaf Studies from Boston University in 2012. After serving in the Army as an intelligence officer, she earned her Master's and Doctorate degrees in Audiology from the University of Tennessee Health Science Center in 2020 and 2022, respectively.
Read Full Bio
She completed her one-year externship at the Knoxville VA outpatient clinic. Dr. Cordova is licensed by the North Carolina Board of Examiners for Speech Language Pathologists and Audiologists.
Dr. Cordova's clinical interests include diagnostic audiometry, hearing devices, and patient education for all ages. She is committed to leading her patients to their communication goals and helping them maintain active lifestyles. She also has in interest in assessing and treating Benign Paroxysmal Positional Vertigo, a common cause of every day vertigo.
Outside the clinic, Dr. Caelan Cordova enjoys hiking, sports and games of any kind, and trying new recipes with her husband.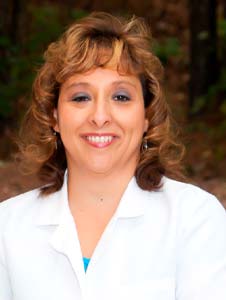 Shannon Butner
Hearing Aid Specialist
Shannon has been a part of the Bright Audiology family since 2001. Because of the skills she displayed working with patients, she began to further her education in the field of hearing health care. She is now a Licensed Hearing Aid Specialist. She specializes in evaluating and fitting patients with hearing devices.
Read Full Bio
It is her passion and commitment to help others obtain better hearing. Her goal for each patient is to enjoy life with better hearing.
Shannon was born in Moore County then moved to Lee County as a child. She has two wonderful grown boys and two awesome grandchildren. She enjoys reading, word search puzzles and spending time with her family.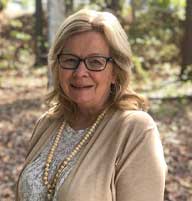 Barbara Messer
Patient Care Coordinator
Barbara joined the Bright Audiology team and has a variety of experiences. She worked as a Provider Assistant for several years and is versed in cleaning and troubleshooting hearing aid repair issues. More recently, she transitioned to her current role as Patient Care Coordinator to assist patients with their appointments and making them feel at home.
Read Full Bio
Barbara grew up in Chatham County and has lived in the surrounding area her entire life. She loves to read in her spare time and enjoys cooking and spending time with family & friends.
"Working with Bright Audiology is very rewarding as we are helping make a difference in people's lives."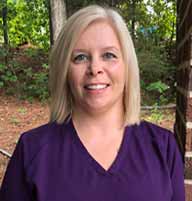 Kristy Hildreth
Provider Assistant
Kristy began working at Bright Audiology in 2021, and serves as our Provider Assistant. She cleans and tests hearing devices to ensure they are working appropriately. She also assists patients during their "hearing aid emergencies" by troubleshooting their devices, and assisting with repairs, so they can get back to hearing as quickly as possible.
Read Full Bio
She always enjoys assisting our patients and is a great asset to our team.
Kristy has two adult sons and a "very sweet and handsome grandson"! She enjoys spending time with her family, and her favorite place to vacation is the mountains.
You don't have to live with hearing loss.
You don't have to live with hearing loss.